Sustainability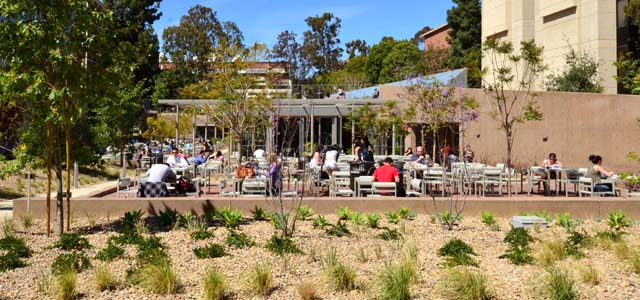 Sustainability
The UCLA Sustainability Committee has been active since 2005 and continues to advance campus sustainability practices and new initiatives. One of the cornerstones of our sustainable campus is the Green Building program. The Leadership in Energy and Environmental Design (LEED) Green Building Rating System, developed by U.S. Green Building Council (USGBC), provides standards for environmentally sustainable construction. Since 2006, UCLA has designed all new construction and major refurbishment projects to meet a minimum LEED Silver rating and strives to achieve LEED Gold.

Major renovation LEED-CI) and existing building (LEED-EB) projects are supported by campus sustainable purchasing practices that provide new Energy Star equipment and Green Seal products wherever feasible. In September 2012, the UCLA Health System opened the Clinical and Translational Research Center as the 100th LEED-certified project in the University of California system. This milestone sends a clear statement on behalf of the UC and the UCLA campus that it is committed to sustainability.

UCLA Capital Programs is committed to advancing sustainability on campus through all its projects. New campus buildings and remodels are required to excel in all aspects of green building:
Achieving Gold certification by the U.S. Green Building Council's Leadership in Energy and Environmental Design rating system - LEED
Outperforming the requirements of California's strict Energy Code, Title 24, Part 6, by over 20%
Reducing carbon emissions through planning and transportation demand management
Reducing building water usage by at least 30% below code standards
Recycling over 75% of demolition and construction waste – targeting zero waste.
Applying high-performance technologies to optimize energy use and occupant comfort
The 100th LEED Certification in the UC System was recently awarded to a project at UCLA. With this milestone, the UC system has become the first American university to have 100 LEED-Certified Facilities.


Capital Programs' commitment to quality green construction dovetails with several other campus initiatives that demonstrate UCLA's leadership on sustainability in Los Angeles and the world.

University of California Sustainable Practices Policy
American College and University Presidents' Climate Commitment
Capital Programs Project Achievements
LEED for New Construction
Awarded
Platinum Mira Hershey Hall
Gold Spieker Aquatic Center
Silver 720 Hilgard Graduate Student Housing
Silver 824 Hilgard Graduate Student Housing
Silver Police Station Replacement Building
Silver La Kretz Hall
Registered
Silver Terasaki Life Science Replacement Building
Gold Pauley Pavilion
Gold Weyburn Terrace Graduate Student Housing
Gold Sproul Hall Complex / Sproul West
Gold Dykstra Repairs & Refurbishment
Gold Engineering VI-Phase I (WIN GEM)
Gold Ostin Music Center
Gold Landfair Apartments
Gold Glenrock Apartments
Gold Luskin Conference and Guest Center
Gold Hitch Suites
Gold Saxon Suites
Gold Teaching & Learning Center for Health Sciences
LEED for Commercial Interiors
Awarded
Gold Young Research Library
Gold Hedrick Hall
Gold Clinical and Translational Research Center
UC Platinum* Rieber Hall
Registered
Silver Kinross Graduate Fitness Center
Gold Fielding School of Public Health Renovation
Silver Boelter Hall Laboratory Remodel
Gold Semel Integrative Phenotyping Center for Neuropsychiatry
Gold Telemedicine
Gold Edie and Lew Wasserman Building – Tenant Improvement
LEED for Core Shell

Awarded
Gold Edie and Lew Wasserman Building – Core & Shell
Registered
Gold Center for Health Sciences South Tower Renovation
LEED for Existing Buildings, Operations and Management

Awarded
Silver Public Affairs Building
*UC LEED Equivalent – based on LEED Rating System, but not certified through GBCI.