Capital Financial Plan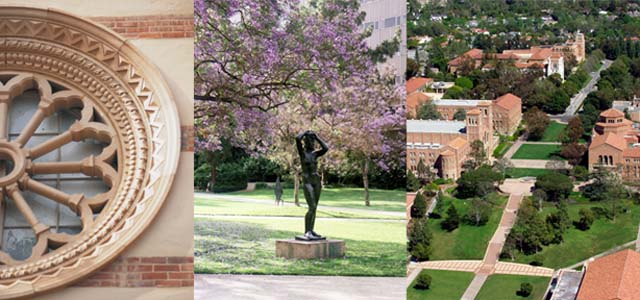 The UCLA Capital Financial Plan is a framework that guides the campus in prioritizing capital investments in support of its academic program, and identifies capital investment and facilities needs aligned with UCLA's Long Range Development Plan (as amended in January 2018) and Physical Design Framework (July 2009).
Priorities
Seismic Program Since the mid-1980s, the campus has completed seismic corrections to 64 structures totaling nearly 9.8 million gross square feet (gsf), and has work in progress on five structures totaling 435,000 gsf. Since 1990, the campus has used 93% of its State funds designated for capital outlay and considerable campus resources to address this effort. During 2019-20, buildings without current ratings and buildings with newly identified structural deficiencies (including Powell Library and Young Research Library) will be analyzed in accordance with the 2017 amended UC Seismic Safety Policy.
Deferred Maintenance There is a need to renew systems in more than 50 buildings that are 25 to 80 years old. UCLA has estimated over $1 billion in deferred maintenance needs and this figure is anticipated to increase once the University's Integrated Campus Asset Management Program (ICAMP) has systematically evaluated all buildings on campus. Renewal scope would involve replacement of obsolete building systems, utility infrastructure and life safety systems; modernization initiatives to improve functionality and space utilization; refurbishment of classrooms; and repairs to campus hardscape and roadways.
Student Facilities During the past 30 years, UCLA has evolved from a commuter campus to a residential campus and now accommodates 14,650 students in on-campus housing and over 3,000 in University-owned off-campus housing. Three on-campus housing projects are currently in construction to provide 5,219 beds for undergraduate and graduate students. These additional beds will enable the campus to meet its goal of guaranteed housing to all entering first-year students for four years, to all new transfer students for two years, and to help address graduate student housing demand. These projects will be available for occupancy in 2021- 22. The CFP also includes two projects that will provide additional on-campus housing for 1,400 students if needed to meet the goals of the Student Housing Master Plan. To accommodate the increased student population, the current CFP includes projects to renovate and expand classrooms throughout the campus, and improve and expand recreation facilities in the northwest campus.
Upgrade Campus Infrastructure In addition to the deployment of available State Deferred Maintenance funding, UCLA proposes to fund a number of critical upgrades to infrastructure from campus resources. This work includes upgrades to the electrical distribution system, and replacement of obsolete emergency generator equipment serving the Center for Health Sciences. Master planning for upgrading campus sewer, storm water, and other infrastructure is underway and projects will be included in future updates to the CFP.
Sustainability The campus will continue to advance sustainability practices and initiatives. UCLA is pursuing LEED™ Gold certification for all new construction and minor refurbishment projects. Of 46 projects that have been granted green building certifications, 15 achieved Platinum, 21 achieved Gold, and 10 achieved the University minimum of Silver. Another 14 projects are registered to receive certification. Other energy conservation programs, transportation, housing, information systems, and waste diversion initiatives are underway.