UCLA Seismic Safety Building Reports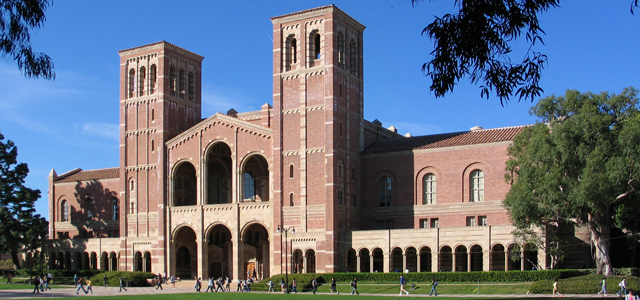 Seismic Safety Building Reports
Below are the updated seismic safety building reports released on April 1st, 2022. UCLA has contracted with an independent team of leading engineers specializing in seismic evaluation, research, design and construction since 2011. This team, called the UCLA Seismic Review Committee (SRC), is now engaged in the UC-wide effort to update the seismic performance ratings of 571 UCLA buildings.

The SRC meets monthly to peer review all ratings of UCLA buildings and evaluates prospective leases and acquisitions of buildings. The SRC peer reviews the structural design of all new buildings, as well as designs for seismic renovations to existing buildings. The SRC also advises UCSF on ways to make compliant buildings safer and more resilient, and advises on how to establish priorities for seismic compliance.

As our comprehensive seismic safety review continues, all final building reports and their ratings will be posted on these web pages.
Summary Table of the Group 1, 2 and 3 Building Ratings, released April 1st, 2022.
| | |
| --- | --- |
| Building Name | Seismic Performance Level Rating |
| | VI |
| | V |
| | VI |
| | IV |
| | IV |
| | IV |
| | V |
| | V |
| | V |
| | V |
| | V |
| | V |
| | V |
| | V |
| | V |
| | V |
| | V |
| | IV |
| | IV |
| | III |
| | IV |
| | III |
| | III |
| | V |
| | IV |
| | IV |
| | III |
| | VI |
| | III |
| | III |
| | III |
| | III |
| | III |
| | III |
| | III |
| | III |
| | III |
| | III |
| | III |
| | III |
| | III |
| | III |
| | III |
| | III |
| | III |
| | III |
| | III |
| | III |
| | III |
| | III |
| | III |
| | III |
| | III |
| | III |
| | III |
| | III |
| | III |
| | III |
| | III |
| | III |
| | III |
| | III |
| | III |
| | III |
| | III |
| | III |
| | III |
| | III |
| | III |
| | III |
| | III |
| | III |
| | III |
| | III |
| | III |
| | III |
| | III |
| | III |
| | III |
| | III |
| | III |
| | IV |
| | IV |
| | IV |
| | IV |
| | III |
| | IV |
| | IV |
| | IV |
| | IV |
| | IV |
| | III |
| | III |
| | IV |
| | IV |
| | VI |
| | V |
| | III |
| | V |
| | IV |
| | V |
| | V |
| | V |
| | V |
| | IV |
| | IV |
| | IV |
| | IV |
| | V |
| | IV |
| | V |
| | III |
| | III |
| | III |
| | III |
| | III |
| | III |
| | III |
| | III |
| | III |
| | III |
| | III |
| | III |
| | IV |
| | IV |
| | IV |
| | IV |
| | IV |
| | IV |
| | IV |
| | IV |
| | III |
| | IV |
| | IV |
| | IV |
| | IV |
| | IV |
| | IV |
| | IV |
| | III |
| | V |
| | V |
| | V |
| | V |
| | V |
| | III |
| | IV |
| | III |
| | III |
| | III |
| | III |
| | IV |
| | IV |
| | IV |
| | IV |
| | IV |
| | IV |
| | IV |
| | III |
| | III |
| | III |
| | IV |
| | IV |
| | IV |
| | IV |
| | IV |
| | IV |
| | V |
| | III |
| | IV |
| | IV |
| | III |
| | IV |
| | IV |
| | III |
| | III |
| | III |
| | IV |
| | III |
| | III |
| | III |
| | III |
| | III |
| | III |
| | III |
| | V |
| | III |
| | III |
| | III |
| | III |
| | III |
| | IV |
| | IV |
| | IV |
| | IV |
| | IV |
| | IV |
| | V |
| | IV |
| | IV |
| | Not Applicable, Satisfies Rating Exception Criteria |
| | IV |
| | IV |
| | IV |
| | V |
| | IV |
| | V |
| | III |
| | III |
| | Not Applicable, Satisfies Rating Exception Criteria |
| | V |
| | IV |
| | V |
| | V |
| | IV |
| | IV |
| | IV |
| | IV |
| | IV |
| | IV |
| | IV |
| | IV |
| | IV |
| | IV |
| | IV |
| | IV |
| | IV |
| | IV |
| | IV |
| | VI |
| | IV |
| | IV |
| | V |
| | IV |
| | IV |
| | IV |
| | IV |
| | IV |
| | IV |
| | IV |
| | IV |
| | IV |
| | IV |
| | IV |
| | IV |
| | IV |
| | IV |
| | IV |
| | V |
| | IV |
| | IV |
| | IV |
| | IV |
| | IV |
| | IV |
| | III |
| | IV |
| | IV |
| | IV |
| | IV |
| | IV |
| | IV |
| | IV |
| | IV |
| | IV |
| | IV |
| | IV |
| | IV |
| | IV |
| | III |
| | IV |
| | IV |
| | IV |
| | IV |
| | IV |
| | IV |
| | IV |
| | IV |
| | IV |
| | IV |
| | IV |
| | IV |
| | IV |
| | IV |
| | IV |
| | IV |
| | IV |
| | IV |
| | IV |
| | IV |
| | IV |
| | IV |
| | IV |
| | IV |
| | IV |
| | IV |
| | V |
| | IV |
| | IV |
| | IV |
| | IV |
| | IV |
| | III |
| | IV |
| | IV |
| | IV |
| | IV |
| | IV |
| | V |
| | V |
| | III |
| | III |
| | IV |
| | IV |
| | IV |
| | IV |
| | V |
| | V |
| | V |
| | VI |
| | VI |
| | VI |
| | V |
| | V |
| | V |
| | V |
| | V |
| | V |
| | V |
| | V |
| | III |
| | V |
| | V |
| | V |
| | V |
| | VI |
| | V |
| | V |
| | IV |
| | III |
| | V |
| | IV |
| | V |
| | III |
| | III |
| | V |
| | V |
| | V |
| | V |
| | IV |
| | VI |
| | VI |
| | VI |
| | V |
| | V |
| | V |
| | III |
| | IV |
| | V |
| | V |
| | IV |
| | III |
| | III |
| | III |
| | V |
| | VI |
| | IV |
| | V |
| | V |
| | V |
| | VI |
| | V |
| | III |
| | IV |
| | VI |
| | V |
| | V |
| | V |
| | IV |
| | V |
| | III |
| | IV |
| | III |
| | III |
| | III |
| | III |
| | III |
| | V |
| | III |
| | V |
| | IV |
| | IV |
| | III |
| | III |
| | III |
| | III |
| | III |
| | III |
| | III |
| | III |
| | III |
| | III |
| | V |
| | V |
| | V |
| | III |
| | III |
| | IV |
| | VI |
| | IV |
| | III |
| | IV |
| | IV |
| | IV |
| | IV |
| | IV |
| | IV |
| | IV |
| | IV |
| | IV |
| | IV |
| | V |
| | V |
| | V |
| | IV |
| | IV |
| | IV |
| | V |
| | VI |
| | V |
| | V |
| | V |
| | V |
| | V |
| | V |
| | V |
| | IV |
| | V |
| | IV |
| | III |
| | V |
| | V |
| | V |
| | V |
| | IV |
| | V |
| | V |
| | V |
| | V |
| | V |
| | V |
| | V |
| | V |
| | V |
| | V |
| | III |
| | IV |
| | IV |
| | V |
| | IV |
| | IV |
| | IV |
| | III |
| | IV |
| | V |
| | Not Applicable, Satisfies Rating Exception Criteria |
| | Not Applicable, Satisfies Rating Exception Criteria |
| | IV |
| | IV |
| | IV |
| | IV |
| | V |
| | V |
| | VII |
| | IV |
| | VI |
| | VII |
| | VI |
| | VI |
| | III |
| | V |
| | V |
| | VI |
| | V |
| | V |
| | V |
| | IV |
| | V |
| | III |
| | III |
| | IV |
| | IV |
| | IV |
| | IV |
| | IV |
| | IV |
| | IV |
| | IV |
| | IV |
| | IV |
| | IV |
| | V |
| | IV |
| | III |
| | IV |
| | IV |
| | IV |
| | IV |
| | III |
| | III |
| | III |
| | IV |
| | III |
| | III |
| | III |
| | III |
| | III |
| | III |
| | III |
| | III |
| | III |
| | III |
| | II |
| | III |
| | III |
| | III |
| | III |
| | III |
| | III |
| | III |
| | III |
| | IV |
| | V |
| | III |
| | III |
| | III |
| | III |
| | III |
| | IV |
| | IV |
| | Not Applicable, Satisfies Rating Exception Criteria |
| | Not Applicable, Satisfies Rating Exception Criteria |
| | IV |
| | III |
| | III |
| | IV |
| | IV |
| | III |
| | III |
| | III |
| | III |
| | II |
| | V |
| | IV |
| | IV |
| | IV |
| | IV |
| | IV |
| | V |
| | IV |
| | IV |
| | IV |
| | III |
| | III |
| | IV |
| | III |
| | IV |
| | IV |
| | IV |
| | IV |
| | III |
| | III |
| | IV |
| | IV |
| | IV |
| | IV |
| | IV |
| | IV |
| | IV |
| | IV |
| | IV |
| | IV |
| | IV |
| | IV |
| | IV |
| | IV |
| | IV |
| | IV |
| | IV |
| | IV |
| | IV |