Seismic Safety FAQ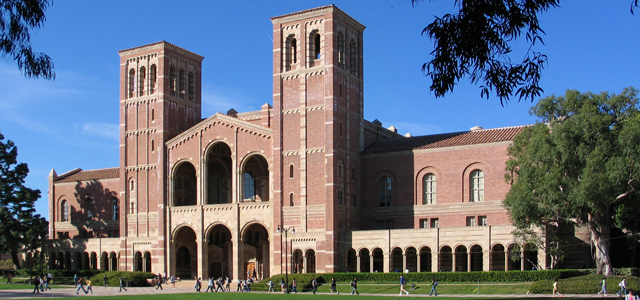 UCLA Seismic Safety FAQ
Under Construction
Q. Why is UCLA conducting this seismic assessment?

A. The University of California is voluntarily updating its seismic performance ratings of buildings across the UC system by incorporating new technologies, scientific advances, and best engineering practices that have emerged in the past several years.

UC employs national standards of structural engineering practice, which are part of the California Building Code, to address seismic issues. These standards are updated every three years to incorporate scientific advances and engineering improvements.

As part of this coordinated, multi-year effort conducted under UC's 2017 seismic safety policy, UCLA is conducting a comprehensive and multi-phased seismic evaluation of its 571 owned and leased buildings on campus and across the clinical enterprise that are part of this review.

UCLA will release the results of these updated ratings in phases as inspections are completed and validated. The results will be integrated into UC's systemwide capital plans to help prioritize planning and capital resource needs.

UCLA, and the entire UC system, have continuously worked to make seismic upgrades to its buildings to ensure the safety and security of faculty, staff, students, patients, neighbors, visitors and the general public.



Q. Who is conducting UCLA's seismic review?

A. UCLA has contracted with an independent team of leading engineers specializing in seismic evaluation, research, design and construction. This team, called the UCLA Seismic Review Committe (SRC), is now engaged in the UC-wide effort to update the seismic performance ratings of 571 UCLA buildings.

The SRC also advises UCLA on ways to make compliant buildings safer and more resilient, and advises on how to establish priorities for seismic compliance.



Q.What is UCLA's process for evaluating buildings?

A. The Seismic Review Committee is evaluating each building through a multi-tiered approach, as defined by the American Society of Civil Engineers (ASCE) standards. Each building receives a basic screening in the first tier of evaluation. If more detailed investigation is required, the SRC will conduct more detailed analyses in second and third tier inspections and advanced computer modeling.



Q. What evaluation guidelines are being used?

A. The SRC engineers rating UCLA buildings are using the strictest and latest seismic standards, developed in recent years by seismic and engineering experts. These standards, known as American Society of Civil Engineers (ASCE) Standard 41-17, form the basis for the structural provisions of the California Existing Buildings Code.



Q. How does the seismic rating scale work?

A. The University, in collaboration with the California Department of General Services and California State University, has developed a system of seismic performance ratings based on the existing California buildings code. Buildings are assessed for earthquake resiliency and assigned a rating. The ratings levels are:



| | |
| --- | --- |
| I – IV | Seismic Safety Policy Compliant |
| V | Will Require Further Evaluation and, if Confirmed, Must be Addressed in Order of Priority |
| VI | High-Priority for Correction |
| VII | Must be Unoccupied and Access-Restricted |




Q. How many UCLA buildings are being evaluated?

A. A total of 571 owned, leased or subleased buildings will be evaluated. For some buildings, simple retrofits could improve their seismic rating. In other cases, engineers may recommend more significant retrofits, or in some cases, vacating and retiring an entire building.




Q. Are UCLA's hospitals safe?

A. Yes. UCLA's inpatient hospitals meet all current seismic standards as regulated by California's Office of Statewide Health Planning and Development.

In 1994, state Senate Bill 1953 (SB 1953) amended the Alfred E. Alquist Hospital Seismic Safety Act to require California's hospitals to evaluate and rate their acute care hospital buildings for seismic resistance. All hospital buildings must be retrofitted or rebuilt to meet that state seismic law by 2030.

UCLA opened three new hospitals the Westwood campus in 2008 and completed the UCLA/Santa Monic Medical Center, each of these hospitls meets the highest seismic standards and are tracking to comply with 2030 state code requirements.



Q. What has UCLA done to ensure the seismic safety of its buildings before now?

A. UCLA has a long history of working to ensure that its more than 500 owned and leased buildings meet the UC's seismic standards. UCLA has invested $2.8 billion dollars to continuously improve the seismic safety and resiliency of its buildings over the past few decades. Among the seismic projects currently underway at UCLA are:



Psychology Tower Seismic and Program Renovation

Kretz Botany Building Seismic Renovation





Q. What actions will UCLA take if a building does not meet UC's seismic policy?

A. The Seismic Review Committee will advise UCLA on how to address buildings that don't meet the University's seismic policy once our assessment is complete. A building rated "V" may continue to be used if our team of seismic experts makes that determination. For such buildings, the team will advise how to manage seismic risks, including whether, to what degree, and when retrofits should be made. No UCLA buildings in the first seismic report were rated VI or VII.

UCLA prioritizes seismic remediation based on a building's age, use, population, structural resiliency, geology and other factors that inform decisions on whether to repair, temporarily vacate, or retire buildings.



Q. What happens after all buildings have been rated?

A. Once the seismic evaluation is complete, UCLA and UC system leaders will work with seismic, engineering and policy experts to prioritize funding for buildings that need to be addressed, based on their seismic assessment, occupancy and usage.



Q. Is UCLA at risk of earthquakes?

A. Because earthquakes are a fact of life in California, UCLA has a robust, ongoing seismic program that evaluates the appropriate steps that should be taken to ensure that all of its buildings meet current seismic standards. As codes and engineering solutions evolve, UCLA works to incorporate the latest approaches to help ensure the safety of the UCLA community of faculty, staff, learners, patients, neighbors and visitors. While it's impossible to eliminate all seismic risk in any building, UCLA is working proactively to help ensure that our facilities meet current seismic standards.



Q. What will it cost and how will UCLA pay to seismically retrofit all of its buildings?

A. The total cost of seismic remediation will be determined once the comprehensive review to update seismic performance ratings for its buildings is completed. Using that information, UCLA will prioritize the work to make any needed seismic updates.

UCLA will work with the UC Regents, state leaders and California voters so they understand the importance of improving the safety of campus buildings and to discuss strategies to finance the improvements needed.

A Public Education Facilities Bond was recently placed on the March 2020 ballot. If approved by voters, the measure would allocate $2 billion to UC for infrastructure needs, including seismic retrofits, across the campuses. This funding would augment UCLA's existing expenditures and commitments, and support new construction and retrofit projects in our multiyear seismic program.



Q. What is UCLA's timeline to release the results of buildings across campus and the clinical enterprise?

A. UCLA released the first part of its seismic assessment, which included 403 buildings, as of June 30, 2019. Engineers expect to complete their assessment of all UCLA-owned and all leased buildings by June 2020. The results will be analyzed, shared with the public, UC Office of the President and the UCLA community, and posted online.



Q. Why did UC change its seismic program?

A. UC continuously updates its seismic program to meet current seismic standards. More information on UC's seismic program can be found within the UC Seismic Policy.